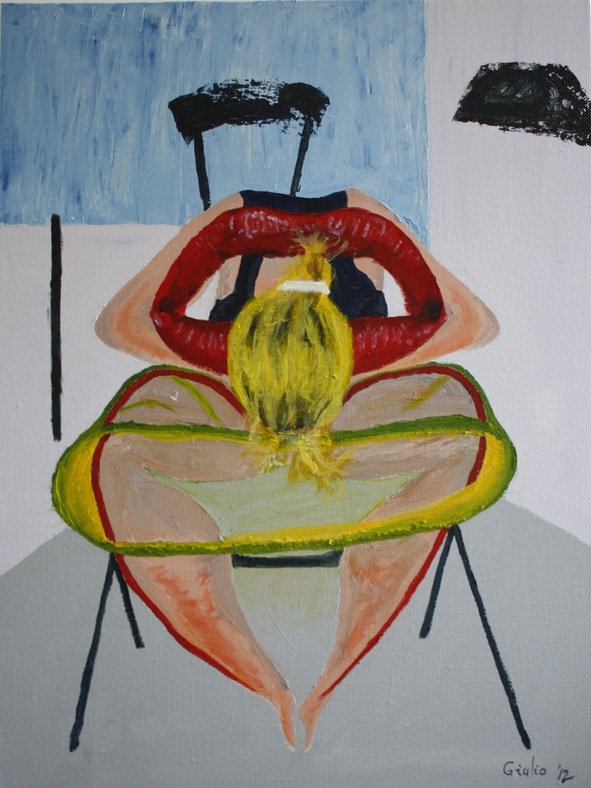 Media: Oil on canvas
Size: 60 x 80
Price: $1500 US
Collection:
Artist Comment
I find this the most complex and intriguing work that I have done. My original idea was a simple portrait/pose of a seated woman, bent over. I asked a friend to pose for me and I took a few pictures. Later, as I sketched, I realized her legs formed a heart – so I thought oh, I`ll paint it that way. Then, a bit later, I saw her shoulders also formed a heart. Now I have 2 hearts!  THEN, as I kept sketching, I saw that, no, her shoulders formed a mouth. So I did that instead. More ideas would have come for sure, but I had to paint it, finish it. There are still 2 hearts, 1 vertical, 1 horizontal. I painted all the pieces of the chair, because it is important to see everything and I think that is part of the statement – things are not quite together. Yet the woman: even though we see and realize more, still – most of what she is is hidden. For me this is Feminine. It is wonderful. I think this is some of what the image is about. An image exposes. The action of exposing reveals to us how much we didn`t and don`t know.
In fact writing this has clarified a lot for me.
Certainly, she is speaking LOUDLY.
Some people have found this image uncomfortable. Perhaps. But I think too it is very deep.
The creative process is a series of choices. Choice is the underlying effector of art, tho`not the driver.